We Rent Roll-Off Dumpsters For Any Size Job!
Here at KDR, we wanted to create a dumpster rental service where the customer comes first. Call KDR Dumpster Rentals at 734-775-5778 to rent a dumpster here in Michigan.
Roll-Off Dumpster Rentals
Is it time to toss away your clutter? Perhaps you want to discard the yard waste, have a construction job, or need to spruce up your rental properties? Roll-off dumpsters are trash containers best suitable for removing dense construction rubble and enormous piles of junk.
For instance, you can use roll-off dumpster rentals when discarding heavy construction concrete, household junk, wood waste, roofing shingles, and much more. Roll-off dumpster rentals are pretty versatile and improve job site safety while boosting efficiency.
At KDR, we supply roll-off receptacles for small and large-scale construction jobs alike. 
Get in touch with KDR's customer support to evaluate the right dumpster rental for your project.

Which Roll-Off Dumpster Rental is Right for Your Project?
Not all waste removal jobs are the same, and so are dumpster rentals. Here at KDR, we have various roll-off dumpster rental sizes that fit unique garbage removal projects. There are several parameters to consider when looking for the right rental for your project.
Your waste volume is the most extensive guide to help you select a roll-off dumpster rental that is right for the job. Size your residential or commercial job before reaching out to your dumpster rental provider. 
Our specialists at KDR dumpster rental can help you size your debris and choose a suitable roll-off container. Skimping on the dumpster rental can be pretty costly—and it means that you will have to spend more money on waste disposal. 
Another crucial factor is the type of garbage you want to discard. Some construction debris is quite heavy, so you need a dumpster that can accommodate the trash weight. Once you size your construction debris, commercial, or household junk, you can select a suitable receptacle for your trash.
And luckily, we have five different dumpster sizes ranging from ten to forty cubic yards. Whether you need a compact unit that can maneuver tight job sites or need a commercial dumpster, we have a reliable solution for you. Specifically, our ten-yard dumpster is common for roofing debris, asphalt, rocks, concrete, bricks, and other dense junk.
And if the ten-yard container is not quite a match for your project, we could rent you our 15-yard container that features the orange line policy. The 15-cubic yard dumpster you see here is also ideal for heavy debris and home junk. Our 20-yard dumpster is ideal for household junk, yard, and roofing waste.
And lastly, the 30 and 40-yard containers are the best shot for construction sites, remodeling, and commercial garbage. Whichever dumpster size you need, our crew is standing by to deliver it to your site.
How Long Can You Rent a Roll-Off Dumpster?
At KDR dumpster rental, we offer flexible scheduling. You're in control of the plan, and you can custom-tailor it to fit your project's timeframe. 
Although we offer a standard timeframe for our online dumpster rentals—which is seven days— you can rent a roll-off container that fits any schedule.
Remember the job size also determines your roll-off dumpster rental schedule. And the roll-off container rental period determines the pricing of your waste disposal job. A dumpster rental period for a kitchen remodel, for instance, can be quite different from a rental period for a full-scale construction project.
Let us customize a cost-effective dumpster rental service that meets your project goals.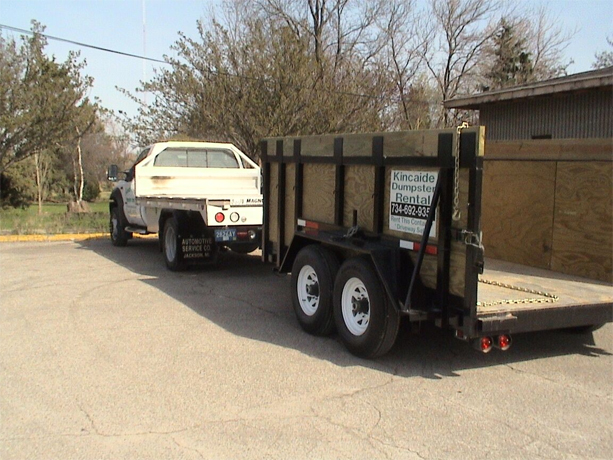 How to Schedule Your Roll-Off Container?
With KDR's reliable online services, scheduling your container is easy-peasy. And if you need help, we can hold your hand throughout the booking process, delivery, pick up and post service.
Got more questions about dumpster rental logistics and availability? We are happy to chat and show you why KDR is the premier waste service company.