Rubber Wheel Trailer Rental Services
Here at KDR, we wanted to create a dumpster rental service where the customer comes first. Call KDR Dumpster Rentals at 734-775-5778 to rent a dumpster here in Michigan.
Rubber Wheel Trailer For Rent
Are you stuck with residential trash and need driveway-friendly containers to haul it? A rubber wheel trailer is ideal if you need a safe driveway. Typically, the big roll-off dumpsters can wreak havoc on properties that need soft contact. These big dumpsters use a conveyor to roll it away and haul it back to the truck bed, and it can tear up your property in the process.
KDR understands the importance of protecting customers' property, and that is why we rent rubber wheel trailers for fragile placement areas. We offer different rubber wheel trailer sizes to accommodate any size project. These unique dumpsters have rubber wheels to protect your driveway, typical of those in your vehicles.
We hook them to residential-friendly trucks to minimize footprint and maximize space. Importantly, these rubber wheel trailer rentals are perfect for any debris type. Whether you have renovation debris, demolition garbage, or yard debris, you can get a rubber wheel dumpster that fits the job.
Why Rubber Wheel Dumpsters?
The number one reason our customers prefer rubber wheel trailers is because of the driveway safety. You don't need to hassle with safety boards to protect your property when renting rubber wheel containers. Also, rubber wheel trailers are easy to drop off and pick up. Our truck hauls the container and backs up to your designated spot, parks the trailer, and unhooks it from our vehicle.
The pick-up process is seamless, we only need to hook the trailer to the back of one of our trucks, and we can easily remove your trash. Furthermore, rubber wheel trailers are great for residential and commercial projects alike. We offer multiple size options for rubber wheel dumpsters, so whichever trailer size you need, we've got your back.
Our rubber wheel trailers feature secure walk-in rear doors, making them easy to load and guaranteeing your safety while discarding the debris. Additionally, rubber wheel dumpsters are eco-friendly, making construction and residential waste disposal a no-brainer.
Another reason to rent a rubber wheel dumpster is that it is compatible even with tight placement areas. Notably, you can only find reliable rubber wheel dumpsters at KDR. And if you're ready to schedule a rubber wheel container, you can use our online booking portal.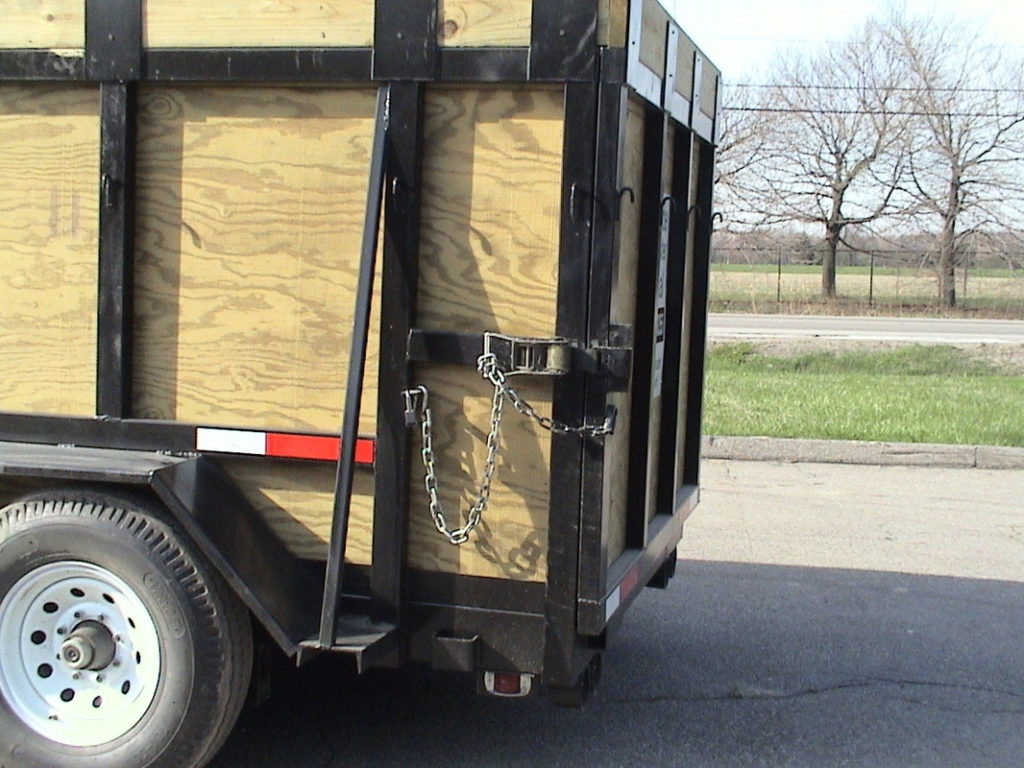 Available Sizes for Rubber Wheel Trailers
Here at KDR Dumpster Rental, we provide six different designs of rubber wheel dumpsters. Whichever rubber wheel container you select, we offer the best service you can't get anywhere else. Are you wondering which rubber wheel dumpster is right for you? We have excellent size options like five, eight, ten, fifteen, twenty, and twenty-five-yard rubber wheel trailers.
The rubber wheel sizes feature perfect capacities to contain debris of any size, big or small. Are you stuck with a couple of tons of residential yard waste? Our fifteen or twenty-yard rubber wheel dumpster could suffice.
Are you tackling a home remodeling project? Consider the twenty-five cubic yard rubber wheel trailer to handle an entire load of garbage in one go. The best part? You can schedule your driveway-safe container and receive it whing a three-hour window.
Our unrivaled delivery times are what you need to kick out junk right on time. Do you need help picking the right rubber wheel container size? We're standing by and eager to serve you.
How Much Does It Cost?
Our rubber wheel trailers are cost-effective and guarantee value for your dollars. The fee to rent a rubber wheel dumpster relies on the size, rental period, location, and the weight of the materials to haul. Nonetheless, we tailor services and bundle affordable prices to match your budget. You can expect the rental costs to range between $300 to $500 for a seven-day rubber wheel container rental.
Get a specific price quote online for free or give us a call to evaluate your waste needs.